In the Zone: Zkej Snags Two-peat, Thwarts Helios, 3-0
by Carrie
The Prontera Post, June 2015
Absolute overdrive – the Malayan guillotine cross Zkej Slaughterdrive showed no sign of putting down his winning streak yet, pulling off a complete manslaughter of rune knight Dark Helios, 3-0, in the face-off round of the June 2015 PK held last Saturday, June 20, in the PVP arena.


Surely, the slaughterer guillotine cross currently rides high off of his feat, just gripping his second straight title as the PK champ. "Grabe 'yung kaba ko, grabe yung excitement… mahirap na masarap 'yung feeling," the still on-a-high Zkej Slaughterdrive described his experience from the recent outing to follow-up his first PK. "Marami nagsasabi wala daw palag 'yung mga nakalaban ko nung 1st PK, so 'eto 2nd PK ko na, baka may sabihin pa sila?"


The defending champion headed up to face fellow PK titlist and peer, ranger iFred, in the eliminations, superbly winning the joust via a shrewd frost-sonic blow combo, then a cutting ripper slasher near the end, 2-0. Zkej continued his slaughter drive in the semis, subduing a completely off ZenurolVZ, shura, to strut straight to the next round in full swagger, 2-0.

(For details about the No.1 PK Event, click Here!)
Zkej's domination was halted briefly in the finals, with the guillotine cross dropping first point against Enlighten, after a massive crescent elbow from the shura's end. Zkej Slaughterdrive, however, bounced back outright in the second set, scissoring the shura with a razor-sharp rolling cutter to force a deadlock, 1-1. The guillotine cross further fuelled his engines by third bout, hurling a heavy ripper to the shura as kiss-off to advance to the face-offs, 2-1.


"N'ong 1st PK ko medyo na-easy-han ako kasi ang bilis ng matches," Zkej thought about his previous PK venture. "But this time iba na to si iFred, top ranger… siya lang 'yung ranger na gan'on ka-kunat… si Enlighten, living legend na shura, hindi basta-basta… [si] ZenurolVZ, may potential," the Malayan guillotine cross commented about his opponents.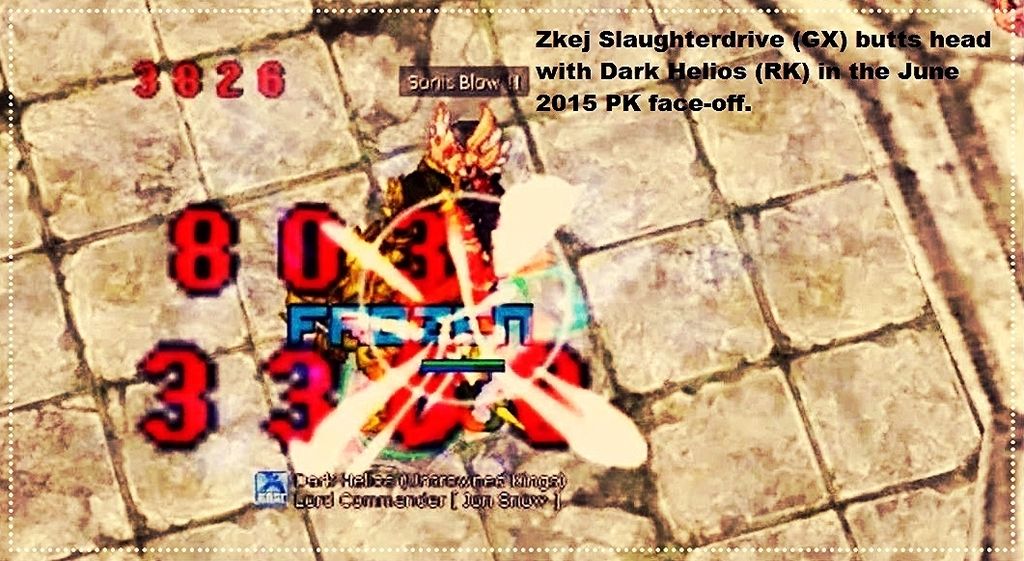 Zkej Slaughterdrive simply had no plans of any more mishaps by face-offs, immediately lunging Dark Helios, rune knight, in total offense, winding up another frost-sonic blow sequence that effectively downed the latter, giving Zkej a quick lead 1-0. Dark Helios returned favors with his own back-to-back frost-crush strike play in the second round, but failed to take out the guillotine cross to tie scores and stay alive in the tourney. Zkej, on the other hand, paid no sweat to prolong the match, flinging a double of his trademark cross ripper slasher in the second and third rounds, whopping the shellshocked rune knight in an extreme 3-0 dismantling.


"Alam lahat ng tao kung ano 'yung mga nakalaban ko. Hindi basta-bastang players, lahat 'yun mas angat sa'kin, kaya motivation ko sila lang din," Zkej convincingly expressed after his win. And as for winning, the Malayan was presented some 30 Proofs of Donation, 5 Megaphones and another month of bragging the gold-plated PK costume helm on his head. "Dinededicate ko 'tong pagkapanalo ko sa lahat ng naniwalang tropa Kaibgan, kaguild, kapamilya at lalong-lalo na sa mga haters ko."
Haters gonna hate, hate, hate, hate, hate, hate.
"[As a] PK Champion, [dapat] may katapangan na kaya mo silang harapin kahit gaano sila kalakas, [dapat may] tiwala sa sarili at isang halimbawa sa mga kapwa players ng MyRO. Nagsisilbi kang inspirasyon sa mga kapwa players," Zkej Slaughterdrive ended.
First thank you God, all is well again! You're my STRENGTH! Sa mga totoong kaibgan ko:

iFred = Top Ranger! DJ all the time
Enlighten = Living Legend / Lip Bite
Tros = Sura Lord / Gabi gabi galit, labyu
I Aint Noob = Sexy time with a kiss always
OG Kush = Matcho and Kasilyas
saldevita = hahaha labyu
Eldie = Supportive brotherhood labyu bro
Jed = Lee Ming Hoe
Jose = Baka papa jose yan
Ipe = Isang Air time nga dyan
Loyda = Tama na work MYRO na!
Mark = Bawas-bawasan ang pang-chichix
Pao = Miss you na bro
Eno = Mag-online ka lagi sa QTB
Exl = Idol n'ya si Zkej as always
Bri = Chix manager hahaha
Bianca = Kasoi! (With Feelings)
Cheffy = Salamat sa PK Buffs
S h i n t a = salamat sa samahan hehe
JayP = Gay
Jaen = Imba ECALL kapag WOE!
Farrow = Salamat sa MAGIC CERO mo
Pammie = KASOI LORD! hehehehe
xAyaka = Tropa naenae sayaw na!
Liz Anne = Lizzie Master of all Neggy
Ena = Nak miss you na Ena banana! hehehe
Sheng = Ilysm! Ikaw lang wala ng iba
MALAYA = Salamat sa lahat ng bumubuo ng tropahan stay loyal
IZLUDE = Salamat sa ALYANSA keep it
Carrie = Salamat sa isa nanamang ARTIKULONG napaka ganda! :*
Congratulations to Zkej Slaughterdrive, your PK two-timer for May and June 2015!