Hugel Hangs On, Dislodges Izlude, 3-2
by Carrie
The Prontera Post, December 2015
In what it seemed to be a grand battle of towns, Rui Hanazawa and the rest of metropolitan Hugel punctuated their 2015 season bottling up some of their "sweet revenge", as a proud The Quaint Garden guild outlasted an acute close encounter with rivaling troop Izlude All Stars, 3-2, in a cut-throat Guild of the Month finale last Saturday, December 5 in the guild war arena.


"Sweet revenge kamo," guild master Rui Hanazawa jokingly remarked about this month's GOM tourney, running his tight ship to unseat Izlude from the throne, which notably chomped Hugel itself in their previous GOM outing last November. "Wala kasi kaming bawe sa kabila… para may term lang, sweet victory, haha."

(For details about the Guild of the Month Event, click Here!)

Nonetheless, Izlude started strongly in the GOM saga, displaying their old form by completely flooring Payon's Bossenian in two handy sets in the semis, 2-0, conveniently setting up an ultimate brawl against first-seeded The Quaint Garden for the championship match. There in the finals, Izlude All Stars harnessed their extensive firepower early on to incinerate 'Garden' in the first round, pushing a premature lead, 1-0.


"Hmm sharp shooters… they have the edge of defense, kasi maraming range… mainly rangers and warlocks," Rui Hanazawa described the opposing Izlude infantry during their riveting clash for the title. "So we transitioned to overrun them with brute force with our RKs' Dragon Breaths."


"We actually balanced the jobs kasi we thought we can lane them. Apparently, we failed," Rui Hanazawa admitted. "So someone just said, 'rush, hit and run!'. We needed to kill them with their strength… range battle, so what we did was just to make it tight for them to execute… close combat," he added.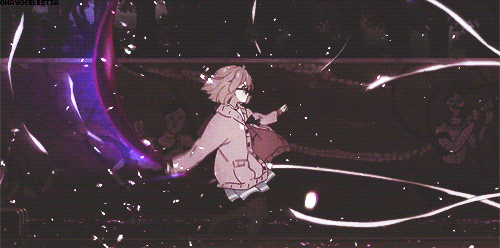 Battling in long range is no fun.
With a solid game and clear motivation, Hugel's 'Garden' made a downright reply in the second set, attacking the Izlude herd head-on with sheer muscle, breaking through the latter's defense to seal a gridlock, 1-1. An undaunted Izlude All Stars, on the other hand, had no time for let-downs, maintaining their aggression to dominate the joust in the third round, earning them the first championship point of the match, 2-1. The Hugelian legion, however, would not concede any point easily, further stepping up their play in the next set to force another impasse, 2-2.


"Trust and a big morale," the Hugelian leader said of his team's biggest strength. "Ang mga sumali, di iniisip na mag-seryoso, ibigay lang ang makakaya and move on. Katuwaan lang pero same goal." And this was certainly true enough, as The Quaint Garden army walled out Izlude in the final stretch of the Guild of the Month workout, dispatching 'All Stars' in a gritty and gasp-worthy race-to-three marathon, 3-2.


"Winning is one thought… [but] I already told myself and everyone involved, 'manalo man o matalo, thank you sa lahat ng suporta. Laro Laro lang, rak!" And with that, Rui Hanazawa and his guildsmen were deservingly rewarded, with the guild master pocketing one "Champion" Expert Ring [0], 10 billion zeny, 30 megaphones, and the royal Blue Burning Helm.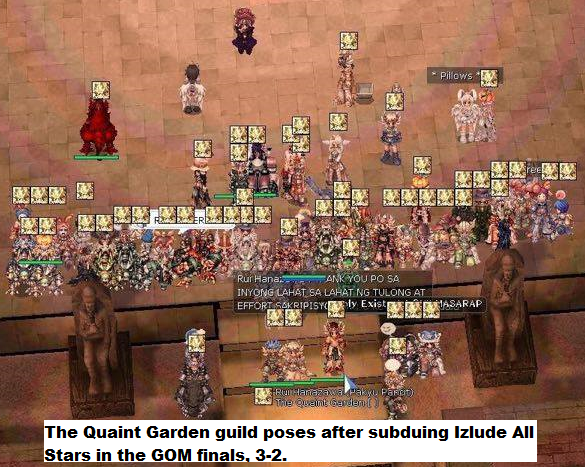 "Nothing will change. Same old me. HG lang to. Iniinis nga nila ako, wala daw akong rare. Pero simula pa lang ng run ko or before pa, may rares na'ko ako which are my friends," a modest Mr. Hanazawa nodded. "[This is] just a part of another chapter in game."


Furthermore, Hugel's guild master would want to extend his appreciation to all his supporters. "Hi Hugel! Thank you * Admin * and Staff! Thank you sa lahat ng sumuporta: Payon, Rgeff, Malaya, MidGeff, LP (some)… Dolfo, Bagz, Ryu, Peps, Bry, Ian, Mike, Arjay, Shindy. I can't name you all. Hindi ko 'to makakamit kung wala kayo kaya hindi lang ako ang panalo kundi tayo. At ang pogi ni Bagz!"

"Also, ang back bone sa run ko, si Mae Valeriano. I love you pangga! Thank you sa lahat."

I got your back... or bone?

Looking forward, Hugel will definitely consider this win as just a tip of an iceberg, as they promise to continue sinking more Titanics en route to their next milestones. "Improvement is always there, adjust na lang sa lahat ng situation na ma-encounter," Mr. Hanazawa commented. Well for now, they will have to savor the victory while it lasts.


Congratulations Rui Hanazawa and The Quaint Garden, our Guild of the Month champs for December 2015!



***See video Here!
***


Edited by * Admin *, 09 December 2015 - 09:57 PM.