Overview:
An internet connection is a connection from one computer to another computer in another part of the globe. The Internet is a series of interconnecting computers which passes through several networks (hops) before it reaches your desired destination, a website, IP or game. (Yes a website and/or a game is a computer as well). Packets are sent from your computer to another computer you specified by web address or IP.
A "Traceroute" is a command which can show you the path a "packet of information" takes from your computer to the one you specified, whether a web address or IP. It will list all the routers/networks it passes through until it reaches its destination, or fails to. In addition to this, it will tell you how long each 'hop' from router to router takes.
In Windows, select Start > Programs > Accessories > Command Prompt. This will give you a window like the one below.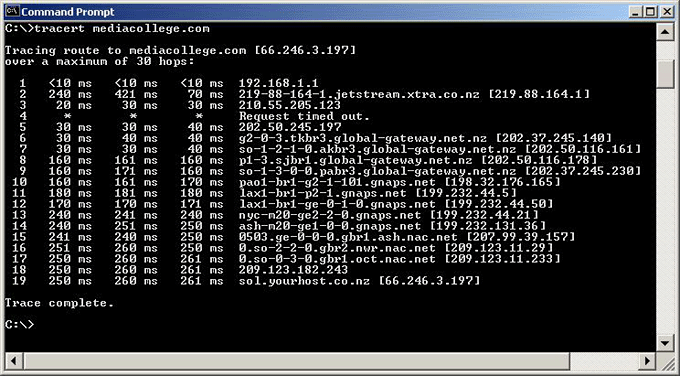 Firstly it tells you that it's tracing the route to mediacollege.com, tells you the IP address of that domain, and what the maximum number of hops will be before it times out.
Next it gives information about each router it passes through on the way to its destination.
Refer to the image above for this explanation:
Hop #1 on the above image is the internet gateway on the network this traceroute was done from (an ADSL modem in this case)
#2 is the ISP the origin computer is connected to (xtra.co.nz)
#3 is also in the xtra network
#4 timed out
#5 - #9 are all routers on the global-gateway.net.nz network (the domain that is the internet gateway out of New Zealand)
#10 - #14 are all gnaps.net in the USA (a telecom supplier in the USA)
#15 - #17 are on the nac network (Net Access Corporation, an ISP in the New York area)
#18 is a router on the network mediacollege.com is hosted on
and finally, line or hop #19 is the computer mediacollege.com is hosted on (sol.yourhost.co.nz)
If you see a "Request Timed Out" message (RTO) in a particular "hop", it means that particular network your ISP (Internet Server Provider) used to get to the destination is faulty, cut or having problems. It will mean a laggy feel on a game or totally cut your connection from it which may make you not be able to connect. Its NOT a problem of your destination IP (Our Server) but the problem lies on your ISP's (Internet Server Provider) networks' chosen paths before it reaches your desired destination. Usually ISP's fix their "routes" after a time so you may just want to wait it out.

POSSIBLE SOLUTION:
Sometimes people using a proxy or VPN can bypass these problems because it may change the "path" or "route" on where your packets passes through thus bypassing the "hop" on which you were having problems (RTO's) initially. Most often than not, this solves the RTO's of hops since it will be passing through a different "path". Try to search the net for a reliable "VPN proxy" (use as keyword).

PROXY: I have learned from other players of this VPN or Proxy IP. Their site is http://www.hotspotshield.com. Some players attest this works. It improved their connections (only for those people having internet problems) and delays since it re-routes the path on which your packets passes through, in other words it uses a different route/hop sets bypassing the specific network hop you were having problems on. You may give it a try. I also tried this and it indeed works and even improved my already good ping of 200ms and now I get 170ms! Though be warned, only use this whenever you have problems connecting. It's still best to use your un-proxied connection. Just download the file from them, install and sign up with a new account. You can enable/disable it by right clicking their icon on the bottom right. Read the instructions on their page. Even if the free trial has expired you may still continue to use it but ads might appear on your browser.
================================================================
How to "traceroute":

1. In Windows, select Start > Programs > Accessories > Command Prompt. A black MS-DOS window will open.

2. Type "tracert 172.106.145.149" (without the " ") then enter. The IP given is our server's IP. (Updated August 8, 2016)

3. A series of information will be displayed. Wait for it to finish.

4. To copy all the information, right click anywhere in the window and click "Mark". Drag to the information/s you wanted to copy then hit ENTER. It is now copied. You may then paste (ctrl + v) the information to wherever you choose, email or here in the forums.
5. If you will submit the traceroute result to me also include your IP. Click www.whatismyip.com to get it.
================================================================
This is my traceroute. I use Smart Bro 999. I just omitted some informations to protect my privacy.




The 1st hop is my linksys router. Now as you can see, I had a "request timed out" message (RTO) in my 2nd hop going to the 3rd hop. The 2nd hop is my wifi, the 3rd hop is my IP with smart bro. This means that my lag problems is caused by my smart bro antenna not being able to reliably connect to smart bro's cellsite in my area. FYI, smart bro now uses PLDT networks as you can see in my traceroute.

The last 8th and 9th hop is the connection of PLDT to our Server IP. No problem with it. This only means that my problem obviously lies at my end of the planet and not the Server's networks.

Actually my traceroute is good (except for my antenna's unreliability) because my hops are only 9. The lesser the hops the lesser time it takes for my packets to reach our Server which is generally good. Some traceroutes have like 15-20 hops which will also mean more room for problems since it relies on several networks instead of only a few. 1 faulty network within the "path" and all will be affected.

You can try to traceroute your connection to our server and post it so I can explain it to you if opted.

I hope you guys learned something regarding connections which will give you more understanding how the internet works. This can also inform you the reason why you are lagging or cant connect. The problem is not always because of our server, most often than not, it is a problem on your side.
You can get back to this post by this link: http://www.traceroute.myroserver.com
Edited by * Admin *, 25 October 2016 - 08:45 PM.
New IP.