Yuno's genius "All is Well" clench the PK helm for 2peat!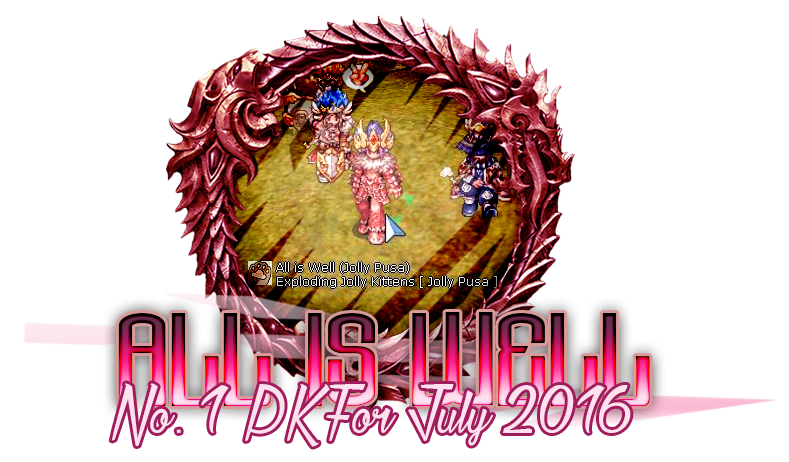 Erza | MyRO Writers Pool Division
Jerronimo | MyRO Designers Club
"Advice ko sa magiging next pk player, ' don't stop believing [in] your skills ' "
- All is Well, PK for the month of July 2016
July 2016 - coming from the floating capital city of Republic of Schwarzwald, All is Well dominated the PK event last Saturday, July 16.
[ Watch the July 2016 PK, click
Here
! ]
The 2peat PK master came from Yuno / Juno. A shadow chaser and a casual gamer. But if you will watch closely his past matches, you will notice that he can't be [closed] confined. Since he is no normal person.
[For guidelines about the Trans MyRO War Masters Event, click
Here
]
His journey to gain another spot in our PK list is quite ordinary for people who have blood lust every time s/he open MyRO
"About sa rank, Sa tulong ng qtb at everyday tambay sa pvp. Ayun di mo namamalayan kasali na pala sa PK".
He even answered simply when asked about his obstructions to attain the PK title,
"Para sakin lahat naman ng jobs mahirap kalaban kasi balance sya. May pang counter sa isa tapos pwede ka din ma-counter dpende nalang yan sa player kung paano mo i-cocounter yung move ng kalaban"
"How to counter like a boss"
Since it's his 2peat, second time holding the helm; I asked a little information about his run for the grand slam.
"Di ko na po iniisip yan, kasi madaming deserving na player for pk. Swertihan nalang siguro sa katapat :P"
To whom he dedicates this victory you may ask?
"Sa yuno family, sila yung tumulong at nag support sakin through thick and thin. Manalo matalo pogi parin tayo :P"
All is Well received 30 PODs, 5 Megaphones. In addition, he was given one more month to own the esteemed No1PK Gold Crown. Will he be able to defend it next month? Better watch out!
Congratulations All is Well, keep on rockin'!
Edited by Erza, 19 September 2016 - 10:45 PM.