Malayan 'Cartel' Inflicts Wipe Out to Force GOM Seizure, 3-0
Carrie | MyRO Writers Pool Division
The Prontera Post, January 2017
x Sexy Beast | MyRO Designer Club
Hawkish, formidable Malayan syndicate had their vulture eyes solely set on the throne, as they turned the GOM tilt into a complete extortion – Joaquin Guzman-led Cartel de Malaya finally concretized their Guild of the Month acquisition, dismantling an out-of-tune Left Pronteran army, Wanderlust, via clean and sudden sweep, 3-0, last Saturday night, January 7, in the guild war arena.


"Yes, it has been a long-dormant while on the GOM run for me," said Joaquin Guzman. "My first try is already five years ago. To be frank, this run isn't really that planned. As some of my in game friends know, I've been quite inactive and just got back in the game for about three months now."


"It just so happened that the alliance rotation after last month's run, would be for my home town, Malaya. And the guys I'm with pushed me to go for it since nobody volunteers and if we don't nominate a frontrunner, we would lose the turn. Thus, I ran. I ran because I have the support, I have the cavalry and it felt like it's gonna go down a road where I won't regret it whether we win or we lose."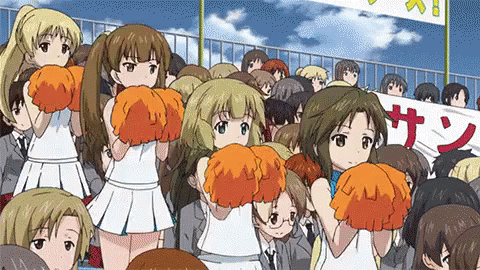 Well, the cheering squad was ready, so...
An entirely collusive and aggressive Malayan guild was all tough business in the semifinals, expunging a crestfallen Lower Alberta-based AnActOfKindness troop, with the latter succumbing to an unquestionable 2-0 defeat. On the other hand, the Left Pronteran squad also took a spot in the finals as a spirited Wanderlust battalion, quite ironically, pounded a seemingly depowered Pound 4 Pound team, giving the Left Pronterans a quick and convincing march to the finale, 2-0.


"At first, I didn't," the Malayan cartel leader admitted his initial lack of confidence during the first nights of his GOM campaign. "I guess all GOM runs were like that. There were dull moments; nights that we got nothing, nights that there's not even half of the members playing. But when the third week came… take note that this is in between the holidays… I noticed and felt the team's drive, perseverance and support for me. Came the last few days, I was [feeling] confident that we would do good… at least 80%. I was wrong. We did great. Far better than [what] I have expected."


The Malayan and Left Pronteran guilds sizzled up the finale in the first round, distancing themselves from each other to avoid premature clash. Cartel de Malaya, however, took the matter in their own hands, destabilizing a roughened Wanderlust by spiking up their level to grab the lead, 1-0. The Malayan union further showed their true market power, probably in terms of sheer labor, in the next round, denying the Left Pronterans a chance to recover by staying on-point destructive with their missile-like offense, superbly catapulting a 2-0 lead.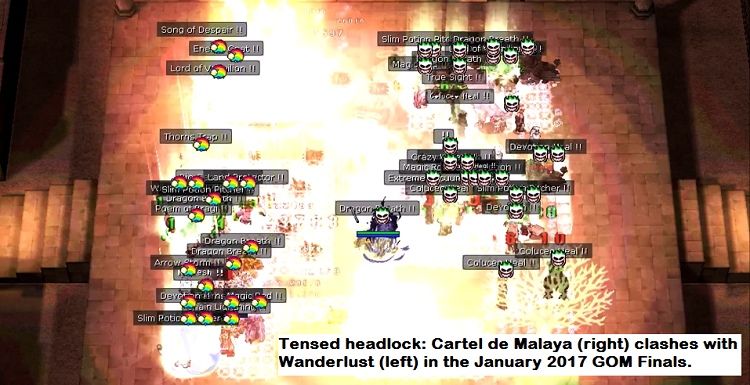 "We were being cautious on the first round," Joaquin Guzman commented about their final battle against Wanderlust in the championship. "You know, trying to gauge the battlefield's premises before engaging the enemy. They were too cautious. But, when the first storm of arrows showered onto them, they started to fall like dominoes. The second round was no different because we already know their capabilities and we know that we had the advantage."


With unrelenting willpower and momentum on their side, Cartel de Malaya heightened their intensity even more in the third round, rattling a lost Wanderlust and driving them to the corner with melee and long-range assaults. The Left Pronteran team stood valiantly before a strong adversary by withstanding their enemies' damaging blitzkriegs while dishing some of their own, still trying to delay the inevitable as much as possible. The attempt was clearly not enough though to fully stop the Malayan group of their GOM takeover, as a robust Cartel de Malaya overpowered Wanderlust for the third straight time, completely monopolizing the gameplay in a gleaming 3-0 record.


"Stoked. Up until this very moment," Joaquin Guzman expressed about Malaya's GOM win. "Most of my in game friends have their helms; I was the odd one out because not until recently, I didn't have it. I felt stoked, proud and overwhelmed with how the game went down." Indeed, the duly-elected president of Cartel de Malaya deservingly received the azure-lit burning helm for a successful GOM run, along with one "Champion" Expert Ring [0], 10 billion zeny and 30 megaphones, plus a forever seat in the Guild of the Month Hall of Fame.
(For details about the Guild of the Month Event, click HERE!)
"I've decided not to have special mentions on this thanking message. All y'all already know that I'm very very thankful of each and every one of you. Like I've been saying in the past days, this win is not just mine. It's ours. We all did this together."


"And lemme end with a quote that would somehow inspire the others beyond their set goals: winners are once losers who never stopped trying. Congratulations Malaya and Chikiting Alliance!" ended a certainly prideful Joaquin Guzman.


Well, there is nothing more to say but loudest congratulations to Joaquin Guzman and Cartel de Malaya, our Guild of the Month victors for January 2017! Till next time!


***
Edited by * Skittles *, 20 January 2017 - 12:03 PM.