Cheeky Chaser 'Japanese' to 'PVP Most Wanted', "Sayonara!"
Shei | MyRO Writers Pool Division
Jerronimo | MyRO Designers Club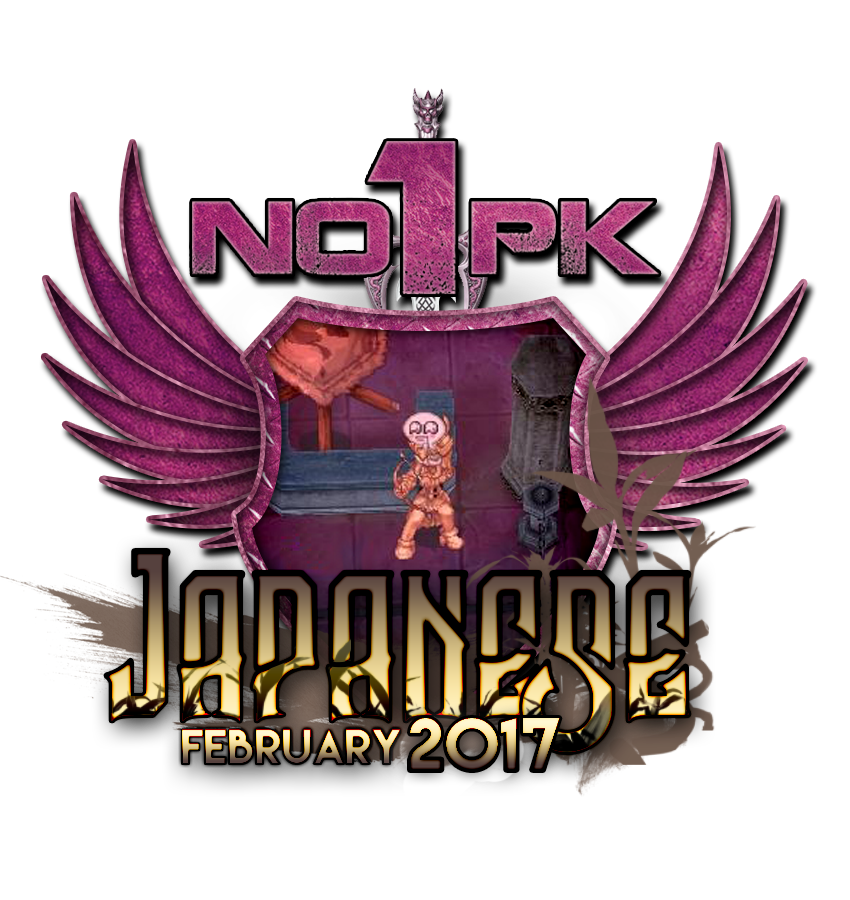 "Where gold speaks, every tongue is silent."
Chemically uninteresting and does not react much to other elements, Gold has always been considered a highly prized metal. Often times, it is associated with being ranked first or number 1. True to her color, the golden shadow chaser – Japanese, from LMS PVP Room emerged as the winner of this Month's No.1 PK crown when she brutally murdered PVP Most Wanted with a straight 3-0 score.
(For the details about the No.1 PK, click here)
Japanese began her PK night by vanquishing the high VIT Rune Knight Trix in the elims with a score of 2-0. During the Semi-Finals, Lee Pang He also met the same fate as the Rune Knight in the hands of this ruthless warrior.
The finals started with our defending champ OG KUSH vs PVP Most Wanted followed by Japanese vs Gyarakushi zxc. That's 1 Rune Knight and 3 Shadow Chasers in the finals. PVP Most Wanted won his match against the pink Rune Knight with a clean 2-0 score, and secured his seat in the face-off.
ohohohoho~ *inside kinakabahan ako*
"Attendance palang alam ko na panalo na ako eh. Hindi na nga ako nagfoofoods," the egotistic shadow chaser answered when asked with whom did she had a hard time.
To be honest, this gal here had a close fight with the bolter type SC, Gyarakushi zxc in the finals. The bolter was able to score 1 point in this race to 2 match because he was able to trap the golden beauty and showered her with magical bolts. However, Japanese showed no mercy in the next 2 rounds and busted her opponent even while stuck in a manhole proving how deadly she is.
Finally, our face off is a shadow chaser showdown between Japanese and PVP Most Wanted. Manhole and bloody lust were all over the place along with a dash of triangle shots fired here and there. Japanese finished this match in a flash with a clean 3-0, denying PVP Most Wanted the PK Crown.
"You sayin' somethin'? Hmm?"
After 6 years, Japanese finally got the title. (Well, that's what she shouted right after the match.) When asked for what she felt? "Nahiya ako. Napakababa kasi ng parangal na PK Crown para sa isang lord na katulad ko." Aww Geez
, we all know that deep inside she was tensed all throughout the whole event, and all those boastful talk was just to release the pressure.
Her advice to those who will run for PK, "Idolohin mo ako at sambahin mo ko para lumakas ka. 20P = SC Tutorial + TrashTalk Training. Talas ng pananalita at tulis ng baba ang susi sa tagumpay."
Take it easy guys, let's all just have some fun and tone down on those Trash Talks, shall we? Remember, * Admin * and his angels are watching.
Her shoutout was short, 4 words and 12 letters dedicated to his beloved, "I love you, Abby." Oops, did I mention that she is a he?
Congratulations once again to Japanese on her 1st PK crown. She, I mean he, took home 30 Proofs of Donation, five megaphones, and of course the No. 1 PK helm.
"bleh!"
PS. Just an inside scoop with y'all, Japanese actually PM'ed me before he answered the question, "Ate, wag ka po mayabangan sa sagot ko a." Pompous on the outside, but timid on the inside now, are we? hehehehe
Edited by Shei, 05 March 2017 - 10:55 AM.