** DISCLAIMER **

This work is not my own. This guide was made by RenGDLK
----------------------------------------
This is a basic guide for those who want to be an Assassin Cross Breaker but doesn't have any idea of the items and skills about it. English? Warning mdaming Typo!!! HOW TO BE A BREAKER FOR DUMMIES


First of all. A breaker's only goal during WoE, as the name goes, is to break the Emperium, pde ding guardian stones and barricades, pero basically, ung madilaw na kristal talga ang habol mo.. simulan na!

Why Assassin Cross? Bket hindi Lord Knight? Kasi Assassin Cross has the skill EDP, that greatly multiplies the SinX's damage.


The Basic Equips for a breaker:


Upper Headgear:
Any +10 Slotted Headgear with Seyren Windsor card

e.g. (basics)



+10 Marionnete Doll[1] (when bought costs 10-30m)
~ +1 Str, Slotted


+10 Pirate Bandana[1] (costs 200-250m)
~ +1 Str, Slotted

*why Seyren Windsor card.. Seyren Windsor Card gives +4 additional Str bonus when compounded to a +10 slotted headgear, costs 10-30m or farm it at Lighthalzen_dun03

Donation slotted upper headgear items includes(Brazilian Flag Hat, Orc Headress, Evolved Magestic Goat, Lord Kaho Horns)
Refer to : Donation items : Headgears



Middle Headgear:
Any Slotted middle gear

e.g. (basics)



Sunglasses[1] (easy quest item or bought at 5-8m)



Refined Elven Ears[1] (quest items or bought at 1pod + 250-300m)

*card compounds, kayo ng bahala, its either anti-status cards, resist cards or attribute cards)

Upgradable and Slotted Middle gears includes, Heart Glasses(cheapest), Robo Eyes, Dark Black Glasses, Dark Frame Glasses, ELf King/Queen Ears, Ifrit Ears, Mask of Goddess
Refer to: Donation items : Headgears




Lower Headgear:
Any Slotted Lower Headgear

e.g. (basics)



Refined Romantic Leaf[1] (quest or bought at 80-100m)


Refined Romantic Flower[1] (quest or bought at 150-250m)


Crunch Toast[1] (quest or bought at 500-550m)


White Petal[1] (quest or bought at 550m-650m)

*card compounds, I prefer to compound the Lord Knight Card(LKC) which is a basic necessity for a breaker, in my lower headgear since I do some switching. To be explained later.

*Other donations items includes Gentleman's Pipe, Evolved Pipe, Bandit Beard, Gangster Scarf.
Refer to: Donation items : Headgears



Body/Armor and Garment:

*Most Recommended Armor Set for Breakers


+10 Pantie[1] (costs 180-200m)


+10 Undershirt[1] (costs 10-20m)

Cards for Body/Armor:
Anti-freeze cards since, pag nanigas ka habang bumabasag, its either madeads ka or maunahan ka ng ksabayan mo sa basagan. (Marc, Evil Druid, Detale)

Cards for Garment:
Madaming pde, usually Giant Whisper(With 80 base str = +20 base attk), Aliot(+2 str, +5% HP), Baphomet jr.(+3 agi), Element resits cards. etc

*Why Pantie Set? Pantie Set gives you additional Agility which is a big boost to your attackspeed




Shoes:

*Most recommended


+10 Black Leather Boot[1] (costs 280-300m)
-agi+1, refine level 9~10 = bonus agi+2
*compound with Thanatos Odium card (costs 80-100m)
-gives +5 bonus agility when compounded to a +10 slotted shoes



Accessories:



2 Brissingamen (costs 9pods+500-650m)

*each gives +6 str,agi,int,vit and +10 luk
*though it is not cheap but it gives you that big boost on your attributes


Here is a screen shot with the basic equipments of a breaker.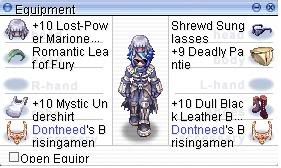 WEAPONS! Dito nagkakatalo! Here are the most commonly used weapons, though nagsawa ako kea kakaiba na weap build ko



Weapons name and price:


+10 Mes[3] (30m or hunt at rachel_sanctuary01)


+10 Ice Pick[0] (50-100m or hunt at mvp boss RXS)


+10 Main Gauche[4] (10m or bili kna lang sa NPC and pplus mo)


+10 Ice Pick[1] (6-7p+zz)


The Following are some points concerning weapons:
1. For starters, it is better to use *+10 Ice Pick in your right hand and +10 Main Gauche/+10 Mes in your left hand.
2. Why Ice pick? Ice pick has the "OCCULT IMPACTION" effect, more def = more damage, and Ice pick is cheaper.
3. If you plan using +10 Mes in your right hand, you must have the Thanatos card(gives the occult impaction effect when compounded to a weapon)
4. The Occult Impaction effect is really needed since it greatly boosts your damage on the emperium
5. Other card compounds that are useful are:
a. Baphomet card (9x9 splash damage)
b. Valkyrja Rangris card & Baphomet (9x9 splash damage with chance of dispelling your kapwa sawsaws!
6. Other card effect such as Mamaring card (chance to strip weapon) doesn't work.
7.reminder compounding 2 of the same modifier type cards gives -7% to its effect.. e.g. Abysmal Knight card gives 25% more damage to boss type monsters.. if 2 cards were compounded to a weapon, it would only give 43% more damage. Hope you got that.

Card Combinations:
Kkonti lang nmn ang variety na gnagamit na cards for breaker's weapons, kanya kanyang combinations lang..
Abysmal Knight, Orc Skeleton, Desert Wolf, Turtle General, Baphomet card.
Thanatos card(mes build)


*~*~*~*~*~*~*~*~*~*~*~*~*~*~*~*~*~*~*~*~*~*~*~*~*~*~*~*~*~*~*~*~*~*~*~*~*~*~*~*

Now you know the basic items build, wag ka munang ssugod sa emp! wala ka pang stats! Maikli lang toh!

Attributes for breakers:

Str: 8*-9*
Agi: 8*-9*
Dex: 3*-4*

Key Points: Dahil dito nanalo ang Lakers!

a. Dapat ang TOTAL STRENGTH mo is DIVISIBLE BY 10! (total str should either total to 130, 140, 150, 160 or 170) below 130 isn't recommended since sobrang baba na ng damage mo

b. Why High rate ang AGI?! Agility is for your attackspeed, total attack speed mo dpat is 183 or 184.. Baket hindi 189 or 190? Later iddisscuss ko din.

c. Dex, mid rate lang since, tatama ka nmn sa emperium with mid rate dexterity, 30-40+ is enough, Dexterity also adds up to your attackspeed.

d. Ung matitira, add mo nalng sa Vit mo or Luk, iwasan mong ilagay sa INT ibang katalinuhan gagamitin sa pagiging breaker



*~*~*~*~*~*~*~*~*~*~*~*~*~*~*~*~*~*~*~*~*~*~*~*~*~*~*~*~*~*~*~*~*~*~*~*~*~*~*~*

Okay na sa Items and Stats, here are some more important points.

A. Why your total attack speed should only be 183 or 184? It is because of the Lord Knight Card, which gives you the ability to use the "BERSERK" skill. Using berserk skill with 184 attack speed would boost it to 190. When 183, it boost it to 189.

Note: In running towards the Emperium room, it is better to unequip your headgear with the LKC because equipping it right away lessens your HP by half.

B. Using Poison Bottle will increase your attack speed by 4, does not stack with Awakes. Kaya my base attack speed is 183 lang, since if I use poison bottle it reaches 184.


C. Diskarte 1: laging sunod sa GM, lalo na kung imba ang ECALL ng GM nio, kung asang agit ang GM, sundan mo since, mas less ang load screen mo pag nsa same map ka with the GM. Malaking advantage to dati, kaso ngaun last hit na.

D. Diskarte 2: Since last hit na ang emp, at pag konti lang ang breaker, wag ka muna bumanat, hayaan mo muna sila. Estimate mo nalng pag mbabasag na tska kna bumanat!

E. Uso ang bapho ngaun, kea ako di muna ako nag sserk, since pag nka serk mode kna, di kna mkakapots, gnagawa ko, banat muna with pots power, pag mbabasag na, tska ako mag Berserk! Auto max out pa ng HP.

F. Use CW, Cursed water, adds damage sa emp.

E. Use Foods, using foods can help boost or cover up some needed attributes. For example, your STR attribute is at 92+35, and your AGI is at 93+67. Because of that your Attackspeed with full buffs and pots is at 184 + berserk =190 attackspeed.. But NOTE THAT YOUR STR NEEDS TO BE DIVISIBLE BY 10 TO HAVE THAT EXTRA BONUS. Reset your Stats, Use +3 AGI, set your STR to 95 and your AGI to 90. You get the STR bonus and keep your 190 max attackspd.

*~*~*~*~*~*~*~*~*~*~*~*~*~*~*~*~*~*~*~*~*~*~*~*~*~*~*~*~*~*~*~*~*~*~*~*~*~*~*~*
FOR PRICES OF FG/SG ITEMS REFER TO THIS THREAD: MYRO COMMUNITY PRICE WATCH by Bolokoy. Refer to pages with the latest updates on prices.


FOR FULL GEAR BUILD REFER TO Brikir Bild by Raf

REFERENCES:


Raf.(2009-2010)."Brikir Bild". Retrieved from, http://z3.invisionfr...opic=13587&st=0.

T O R e Z U.(2009-2010)."POST YOUR BEST DAMAGE SA EMP". Retrieved from, http://z3.invisionfr...topic=8833&st=0.

Bolokoy.(2009). "MYRO COMMUNITY PRICE WATCH". Retrieve from, http://z3.invisionfr...opic=14450&st=0.