First of all
Here is the list of the active GMs of MyRO

* Admin *
* Cherry *
* Mallows *
* Almonds *
* Skittles *
* Twix *
* Pretzel *
* Popcorn *
* Reeses *
* Hazelnut *
* Eclair *
* Nutella *
* Muffin *
* Dango *
* Donut *
* Sgt. Rave *

#1 Do not be fooled by players who will PM you named like MyRO Develepment Team or Admin Dev Team etc. or anything related to the MyRO Dev. Team name.(the MyRO Development Team are the GMs)
When you encounter someone like this he will PM you ingame that like for example.....

"Your account will be banned 10 mins. from now.It has been caught of illegal trading(or something violating against the rule) Pls fill up the form of avoiding of blocking of account.
<Character Involved> <username> <password> <yahoo e-mail> <yahoo password> .

And because you were shocked you immediately believed that poser, you just found yourself filling up the form. So after you have filled up the form, the poser will now say that it will be forward to * Admin *. Another tactic that someone will PM you similar to the MyRO Development Team Name and say the same thing that your account will be banned in a few minutes and if you respond he/she will say that the poser will let you and * Sgt. Rave * talk (because * Sgt. Rave * is the MyRO Police). Next the poser will say he/she will go invi and someone will PM you similar to the name of * Sgt. Rave * telling the he was sent by * Admin * to solve your case.(the 2 guys who PMed you are the same BEWARE!)
(Or he will say add him in his yahoo messenger for him and you to chat properly)

And next he will say something like this: I need the items and zeny in that account to save them so that no item will be lost."

#2 Here is another tactic of hackers/posers. The poser will just pm you and say you have been randomly picked to participate in an event, the fake GM will give you a question then you will answer, although that is not the right answer he/she will tell you it is correct and say the prizes you will receive. After this the poser will say to fill the form
asnwer/username/password.... and say to log out for a while and the poser will say that he/she will put the prize in your storage... DO NOT BELIEVE IN IT! Because GMs are not allowed to host events through PMs they are required to host events only through broadcasts.

#3 Another tactic of hackers they will PM you and say to get your free pods at a website similar to the MyRO website (Note: The official MyRO website is http://myro.ph nothing more nothing else) MyRO does not allow pod duplicators and you certainly cannot get free pods by just logging into the fake website.These fake websites have keyloggers (When you type your username and password into that fake website the website can save it and the creator of the fake website can hack you without you even noticing.) Just remember http://myro.ph is the official website of our game.

#4 Also * Admin * does not ban you because your donation did not appear on his list. He does NOT ban people because of not donating. Donating is not an obligation it is just optional. The MyRO Development Team does not ask for your yahoo email, password, real name and any information about you.


After this process Goodbye your account is hacked. The only way you will retrieve your account is to e-mail * Admin * at myroserver@hotmail.com
Tell him your story politely.Click on the link.
How to report a Scam or Hack Cases

And if you ever encounter people who are trying to scam/hack you, get a Screenshot of him chatting you post it in the forums or e-mail * Admin * for a fast report and faster solving the issue
or just /exall or /ex "poser name" him.
But it is better reporting so other players would not get affected.

Just remember the GMs have an asterisk on their names ( * name of GM * ) and have a space after the first asterisk and a space before the last asterisk.
Hope this helps!
-straw15
Examples of Poser GMs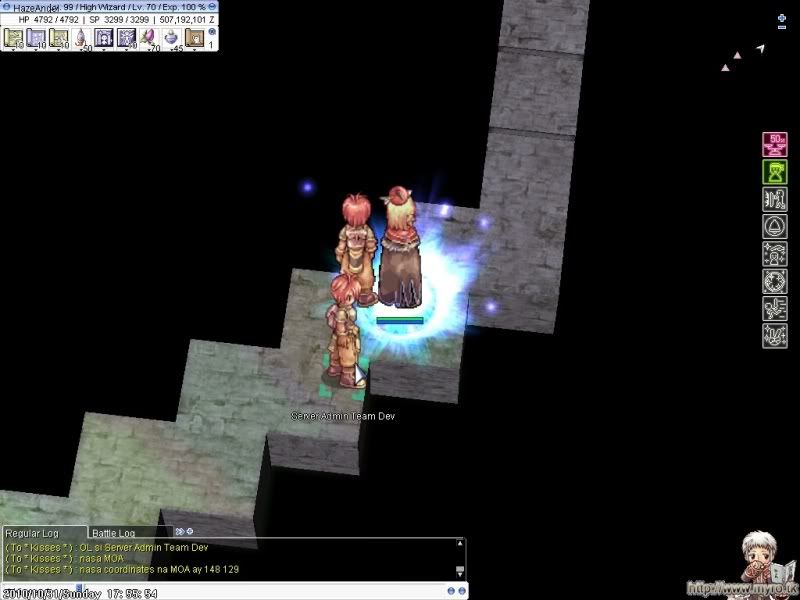 Example of a real GM


© straw15